"Can't Hold Us"
by Macklemore & Ryan Lewis ft. Ray Dalton is featured on
Just Dance Hits
exclusively for the Nintendo Switch version.
Appearance of the Dancer
Edit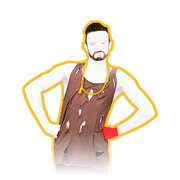 The dancer is a male with dark hair and a beard, who changes into three different outfits in the routine.
The first outfit is a brownish maroon vest top with holes in it. There are also black ripped jeans, black boots, and two gold chains around the dancer's neck.
The second outfit is a pirate kind of outfit with a large red captain's jacket with straps. The dancer is with an orange/yellow shirt under it. The jeans and boots are the same. The dancer also has a pirate hat and gold bangles on the same wrist as the glove.
The final outfit is the first outfit with a large fur coat and a coonskin cap. The outfit has a strong resemblance to Macklemore's outfit from the Thrift Shop music video.
Background
Edit
The backgrounds are very colorful and bright. It starts off with a turquoise backdrop with added items as the dance proceeds. These items include clouds, mountains, cacti, a flamingo wearing a cowboy hat, a red car, and a fruit smoothie with a fish in it. They move along to the beat of the song. Once changed to the pirate outfit. It is a red sunset backdrop with clouds. The final scene shows The Heist flag from the music video with trombones that go along with the song.
Gold Moves
Edit
There are 5 Gold Moves in this routine:
Gold Move 1: Swing your arm.
Gold Moves 2, 3, and 5: Cross your arms. The fifth Gold Move is the final move of the routine.
Gold Move 4: Stick your right hand up in the air and shake your hand while you hold out your left arm.
Game Files
Edit
In-Game Screenshots
Edit