Got That by Gigi Rowe
has a mashup on planedec50's channel.
Addicted To You (JD2015)
Follow the Leader (JD2014) (GM1)
Crazy Little Thing (JD4)
Love Me Again (JD2015)
I Will Survive (JD2014)
U Can't Touch This (JD1)
Move Your Feet (JD2)
Le Freak (JD1)
Gentleman (Sweat) (JD2014)
Good Feeling (JD4)
That's The Way (I Like It) (JD1)
Good Girl (JD4)
Ievan Pollka (JD2016)
Baby Don't Stop Now (JD3)
Pump Up the Volume (JD2)
Problem (JD2015) (GM2)
Teacher (JD2016)
Don't You Worry Child (JD2014) (GM3)
Drop the Mambo (JD2016)
Dancando (JD2014)
Domino (JD4)
The Power (JD2) (GM4)
American Girl (JD2014) (GM5)
California Gurls (JD3) (GM6)
Addicted To You (JD2015)
Gold Moves
Edit
There are 6 Gold Moves in the mashup.
Gold Move 1: Flick the air with your hand 4 times. (Follow The Leader)
Gold Move 2: Lift your right leg up and cross your arms as you hit them towards the ground. (Problem)
Gold Move 3: Bring up both of your hands while kneeling. (Don't You Worry Child)
Gold Move 4: Slowly raise both of your arms, as if you were playing a saxophone. (The Power)
Gold Move 5: Move your arms a little slowly from the middle of your body to the upper thigh. (American Girl)
Gold Move 6: Put your right hand on your left shoulder. (California Gurls)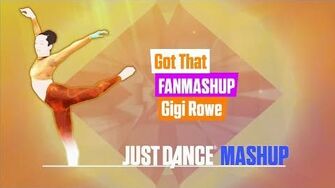 Ad blocker interference detected!
Wikia is a free-to-use site that makes money from advertising. We have a modified experience for viewers using ad blockers

Wikia is not accessible if you've made further modifications. Remove the custom ad blocker rule(s) and the page will load as expected.