"Iko Iko" by Mardi Grass is featured on Just Dance Hits.
Appearance of the Dancer
Edit
The dancer is a woman with pink hair. She has a tribal appearance, which includes a pink headdress with light blue flowers, a pink, purple and blue two-piece fluffy outfit, and purple shoes with dark blue straps. She has a thin blue outline, and her skirt has elements of dark blue and pink.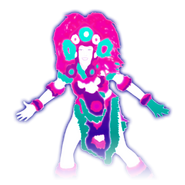 Background
Edit
The background takes place in a blue rainforest. This may be because the background is nighttime.
Gold Moves
Edit
There are 4 Gold Moves in this routine, which that are all the same:
All Gold Moves: Spin your left hand in a clockwise direction and your right hand in a counter-clockwise at the same time and in rapid motion.

All Gold Moves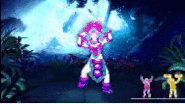 All Gold Moves in-game
This song is performed by Mardi Gras Indians. Its original title is Jock-A-Mo.
In the original game, the forest is green.
The dancer appears in the FanMade Mashup of Adeyyo.
Game Files
Edit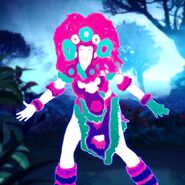 Iko Iko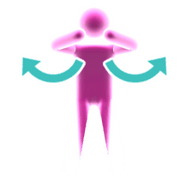 Unfinished Pictogram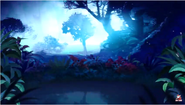 Background