Keep on Moving by Michelle Delamor
has a mashup on planedec50's channel.
Where Have You Been (Extreme) (JD2014)
Jin Go Lo Ba (JD1)
Lights (JD2016)
Love Me Again (JD2015)
Mas Que Nada (JD4)
Can't Get Enough (JD2014)
Diggin' in the Dirt (JD4) (GM1)
Fatima (JD2015)
Diamonds (JD2015)
I Kissed A Girl (JD2014)
Super Bass (JD4)
What About Love (JD2014)
Papaoutai (Extreme) (JD2015)
On the Floor (JD4)
Maria (Sweat) (JD2014) (GM2)
Maps (JD2015)
Love You Like a Love Song (JD4)
Iko Iko (JD2)
Where Have You Been (Extreme) (JD2014)
Gold Moves
Edit
There are 2 Gold Moves in the mashup.
Gold Move 1: Throw your arms up in a flexing position. (Diggin' in the Dirt)
Gold Move 2: Slightly kneel on your left leg with both hands by your hips. (Maria) (Sweat)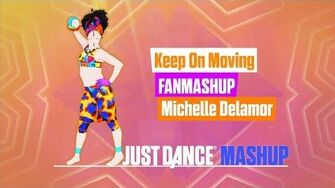 Ad blocker interference detected!
Wikia is a free-to-use site that makes money from advertising. We have a modified experience for viewers using ad blockers

Wikia is not accessible if you've made further modifications. Remove the custom ad blocker rule(s) and the page will load as expected.