Kissing Strangers has a mashup on planedec50's channel.
We Can't Stop (JD2015)
American Girl (JD2014)
Fine China (JD2014)
Ain't My Fault (JDU2017)
Touch Me Want Me (JD3)
So What (JD4)
Sympathy For The Devil (JD2)
The Fox (What Does The Fox Say) (JD2015)
Troublemaker (Sweat) (JD2014)
Crazy in Love (Remake) (JD3)
You Spin Me Round (Like a Record) (JD2015)
Beauty And A Beat (JD4)
Dun N' Dusted (JD3)
Boomsday (JD3) (GM1)
I Was Made For Lovin' You (JD3)
Wild Wild West (Extreme) (JD4) (GM2)
Till I Find You (JD2015)
Follow The Leader (Sweat) (JD2014) (GM3)
Heartbeat Song (JD2016)
Brand New Start (JD4)
Party Rock Anthem (JD3)
The Power (JD2)
We Can't Stop (JD2015)
Gold Moves
Edit
There are 3 gold moves in the mashup
Gold Move 1: A slow right-armed thumbs up. (Boomsday)
Gold Move 2: Put your right hand on your "hat". (Wild Wild West (Extreme))
Gold Move 3: Lower both of your arms when "He got that bomb, I think I'mma call him dynamite" is sung. (Follow The Leader (Sweat))
The song was shortened for unknown reasons.

This may be to help better fit the dancers.

Boomsday and Dun 'N' Dusted were remade for this mashup.

The pictograms were not changed.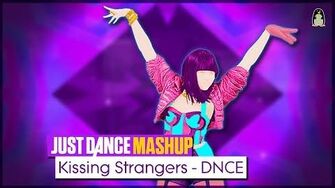 Ad blocker interference detected!
Wikia is a free-to-use site that makes money from advertising. We have a modified experience for viewers using ad blockers

Wikia is not accessible if you've made further modifications. Remove the custom ad blocker rule(s) and the page will load as expected.