"Play" (Play 我呸) by Jolin Tsai is featured on Just Dance Hits.
Appearance of the Dancer
Edit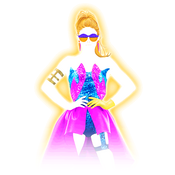 The coach is a woman with blonde hair tied in a ponytail. She wears a dark purple and orange ombre sunglasses, a glittery blue teddy with a connected garter, a pink skirt, and pink heels. When the background turns black, her outfit turns neon pink and her skin turns magenta.
Background
Edit
The background has five stages. The first stage is a variety of squares containing objects like headphones, chess pieces, golden plastic ice cream cones, diamond ducklings, diamonds, and mints. The second is a jewel-encrusted egg with rotating ice creams that move to rhythm of the song. The third is a purple crystal background with three-dimensional diamonds. The fourth stage is a diamond that rotates and emits lights to the beat and the dancer's moves. The fifth stage contains connected triangles that move to the rhythm.
Gold Moves
Edit
There are 2 Gold Moves in this routine:
Gold Move 1: Put your hands up and make them bump.
Gold Move 2: Open your arms in semicircles quickly, while walking to the right.
Game Files
Edit
In-Game Screenshots
Edit